Hands up who saw this coming?
http://marvelousnews.com/index.php?catid=23&itemid=17549
Step 1) Release first figure from team with re-launch of the line.
Step 2) Release second figure from team as a build-a-figure.
Step 3) Release third figure from team as god-damn unobtainable exclusive in box-set with other figures of no interest to anyone but that will reach inexorable heights on the reseller market!
Step 4) Profit.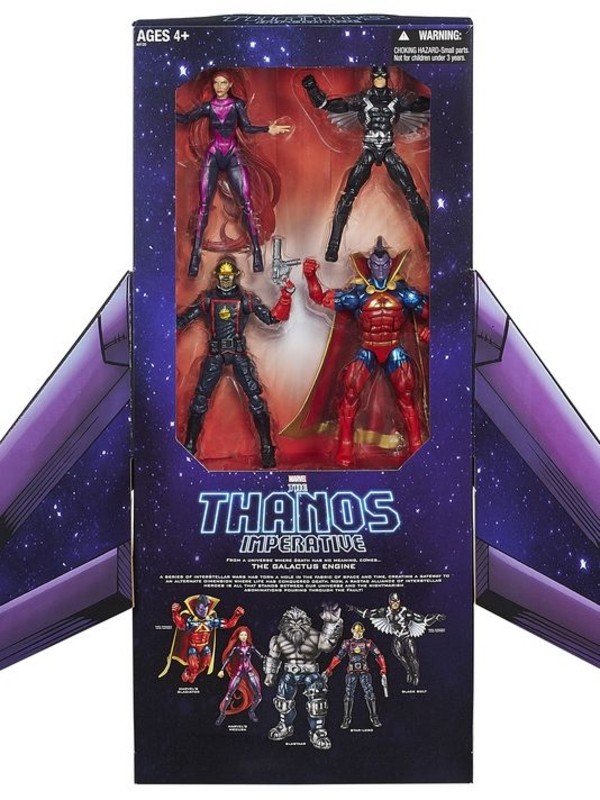 I really like the look of that Star Lord figure too.
awe
EDIT: Alright, I'll acknowledge that some might like the Inhumans and Gladiator is cool from an Operation Galactic Storm sense.
Last edited by awe on Fri May 23, 2014 8:06 am; edited 2 times in total

awe




Number of posts

: 501


Age

: 40


Location

: Sydney


Trading Status :

13


Registration date :

2009-02-17



YES!!!!!

Wish I had more kidneys to sell.......

Finally though, a good SDCC exclusive - see how it's done, Mattel?

fuzzcat




Number of posts

: 607


Age

: 39


Location

: Brisbane, QLD


Trading Status :

36


Registration date :

2008-04-14



Wow, looks pretty cool. Pity both price and availability will be through the roof and not easy to get .

I would welcome each to my shelf!

Going to now have to find a decent ebay seller who is content with only 50% mark up

lol.


I want this set bad, especially for Blastaar. I can't believe Hasbro pander to Walmart with constant streams of IronSpiderCapVerine and when there's finally a collector set it's made as an unobtainable exclusive.

Oh, and you can't tell me that the A.I.M Scientist wasn't a by-product for the StarLord sculpt.

fishmilkshake




Number of posts

: 432


Age

: 47


Location

: Canberra, Australia


Trading Status :

3


Registration date :

2012-09-09



I want all of these!
I think I will ask them to unpack the figs and ship as its a bloody big box!

Otter

hotter to trotter




Number of posts

: 786


Age

: 42


Location

: Sydney West


Trading Status :

12


Registration date :

2008-04-06



i called this boxed set months ago, except minus Blaastar and Medusa and plus DnA Gamora and Classic Ronan. Pretty close though lol

Steve Holt

Looks excited




Number of posts

: 485


Age

: 29


Location

: Newcastle


Trading Status :

21


Registration date :

2008-03-16




---
Permissions in this forum:
You
cannot
reply to topics in this forum